20 May

Scotland's digital transformation
Head of Digital Public Services Strategy and Policy for the Scottish Government Julie Kane speaks to eolas about the Scottish Government's digital transformation strategy, its interaction with the National Performance Framework and how it has been designed with inclusivity to the fore.
Entitled Realising Scotland's full potential in a digital world: a digital strategy for Scotland, the Scottish Government's digital transformation plan was unveiled in March 2017 with four key goals: delivering inclusive economic growth; reforming public services; tackling inequalities in poorer communities; and preparing children and the current workforce for the workplace of the future.
"It's not just about government, we see the interaction between economic growth and our public services as key because public services have so much to offer in terms of growing our economy," Kane says. "There are about 140 actions in the strategy that cover everything from connectivity to economy and digital government to participation.
"A big thing is our interaction with digital technology industries and how innovation is really a thread right through everything we do. It's about how we make sure our education and training facilities are fit for purpose for the future. We're trying to grow those skills and capabilities in house, we've done quite a bit of work on that and we now have a Digital Data and Technology Framework which makes sure that everybody has a profession within that framework. They now work in a profession-based approach rather than a project-based approach so we can draw on our professions to support our agenda."
Such agendas could never have been supported had the Scottish Government not been imbued with the power to enact such initiatives by devolution. "Devolution gives us responsibility for education, health and environment and increasingly taxation and social security, which gives us opportunities because the more we take control of these things the more we can develop them from scratch," Kane explains.
One of those returns has been investment from the Government in the CivTech programme, where the Government has contracted entrepreneurs and small businesses to "bring them together with the public sector to take on our [digital] problems". The programme in its first phase created 27 new jobs and over £800,000 contracts for the companies involved according to Kane. "By linking public services and the economy, we have a real opportunity and our new powers allow us to refocus and redesign services," she says.
"We're on a mission to have citizens contribute to the design of the Scottish Government they need and use. The Scottish approach to service design is not a Scottish Government initiative, but a whole of Scotland initiative, ensuring that communities can engage with the way our country works," she continues. The way Scotland works as a country has been overhauled since powers were devolved to Holyrood, especially since the Christie commission report and the publication of the ambitious and overarching National Performance Framework (NPF), which aims to "reduce inequalities and gives equal importance to economic, environmental and social progress".
"Everything is underpinned by the NPF, it's a framework about how we measure the well-being of the nation, not a series of targets.," Kane says. "Digital has a big contribution to play in that. Design is about services that are interactions between people and so we need to understand what people's motivations and behaviours and we need to get them involved in these decisions. By continually testing ideas, we're reducing risks and always getting feedback, so we know we're solving problems in the right way."
This approach naturally opens out to collaboration, but a kind of collaboration that is less discussed than the form of public-private partnerships seen in programmes like CivTech. "It's important that we ensure we are collaborative in the public sector, because as we all know public services aren't delivered by one organisation," Kane elaborates. "I think if we truly listen to people and hear the things we don't want to hear, that's really important because you'll often find that people are doing very inefficient processes very efficiently. What we sometimes do is meet the needs of the service and not the individual and the organisation is blindly delivering this service without knowing what it means to the customer. What we'd like to do is structure a service where we meet the needs together.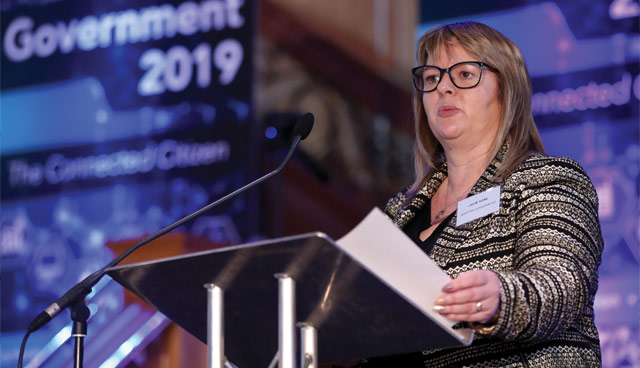 "Service design is everyone's business and it belongs right through the chain of practitioners we work with in digital. It's about empowering the people of Scotland to participate in the design of their public services. We have a panel of 2,000 people who are actively involved in the design of our social security agency. These are all people who have experiences of benefits, all of them have lived it."
Another example of such work is Disclosure Scotland, the organisation that perform the country's equivalent of Garda vetting, whose initiative allowed them to have bottom up perspective on what their data was telling them. "They started doing a very large discovery project to gather lots of data from users about their experience of the current process of applying," Kane explains.
"They got end users, organisations who help people apply, organisations who require disclosure for employment, call centre and organisation staff and brought them together for what they called a sense making session. By doing that they came up with different ideas of what the data looked like and were then able to see that they had a real direction in terms of what the redesign looked like, which was very different from what they initially thought it would look like.
"Any redesign needs to be inclusive," Kane says. "People have very different needs, so the first thing we do is create what we call an inclusion checklist. What we established was that similar services could underpin each of the benefits and technology was required to support that process. We have separate systems for each of our benefits for example, and sometimes the information doesn't link up. Sometimes starting from scratch is a real basis for developing better services."
Using 2018's Year of the Young People initiative, the Scottish Government started the implementation of their digital framework with the country's youth, funding the Young Scot organisation to monitor progress in the context of the 5Rights Youth Commission, which includes the right to digital literacy, and "to know exactly where we embed all of this in our ethical framework".
"That overarching guide of principles underpins the design and delivery of digital technologies as well as a code of rights and responsibilities shared across multiple sectors to influence behaviour and instil public confidence," Kane says. "What is key to our success is having a clear strategy and policy, having the citizen at the heart of what we do and having multi-disciplinary teams. For us, it's about societal change, not organisational change.
"What we need to focus on is that it's not about a panacea, it's about giving people what they need. What we need is a mixed economy of skills working together with public and private sectors. Our digital transformation works with different disciplines coming together to design and deliver transformation in an agile way. Gone are the days when everything has the waterfall approach to it. As public servants, we don't pick and choose our customers, and I think that's an important point," she concludes.